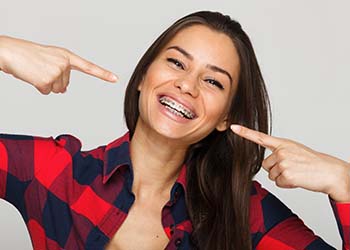 Everyone wants that 1000 watt, million-dollar, Hollywood smile. Unfortunately, it doesn't come naturally to all of us.
As an adult in particular, having dental issues like misalignment can have huge negative implications, not only on your health but also your social life. Therefore, you cannot afford to ignore the problem.
Of course, the thought of getting your teeth realigned as a grownup is not very inviting. I mean, who wants to be in their thirties or forties with a teen brace-face smile, right?
However, the decision to get your teeth straightened is one that could change your life, so don't dismiss it just yet. To put things in perspective, here are 10 of the benefits of adult braces in Highland Park, IL.
#1 Look good; feel good
How you look has a direct impact on how you feel about yourself. If you have dental issues, more often than not your self-esteem will take a huge blow. And no, self-esteem issues don't just affect teens and kids.
As an adult, getting your teeth fixed will allow you to be comfortable in your own skin finally. Feeling great about yourself means that you will not hold back, and you will finally be able to achieve your full potential in life whatever you choose to pursue.
#2 Get rid of all oral discomfort
Adult braces in Highland Park are popular as they help with reducing discomfort. If you have misaligned teeth, then you know that they can be a real pain. And we're not talking about the aesthetics.
Some cases can be so severe that the misalignment causes headaches, jaw pain, and even difficulty swallowing.
Getting this simple issue corrected means you will forever be free of this debilitating discomfort.
#3 Significantly lower risk for dental decay
Teeth that are straight and properly spaced are very easy to clean. The tooth brush and floss get to do their job unhindered. This protects you from all manner of dental issues, from cavities to gingivitis.
So consider getting braces for this reason in order to avoid things getting worse. Otherwise you will continue giving the bacteria a place to hide, which will spell trouble for you later on.
#4 To correct age-related jaw bone changes
As you grow older, your bone structure will undergo several changes. This includes the jaws which hold your teeth. The result is usually an exaggeration of existing conditions like crowded front teeth, buck teeth, and general misalignment.
With adult braces, in addition to getting straight teeth, you get to correct the jaw issues. That way, your new perfect teeth have a stable home to sit in for an awesome final result.
#5 A healthy mouth translates to a healthier body
Most people don't know this, but having disorganized teeth can have direct effects on your general health. One system commonly affected is the respiratory system.
Research has proven that there is a direct correlation between misaligned teeth and sleep apnea. The digestive system is also affected with issues such as difficulty swallowing, as well as bloating and indigestion.
By fixing your teeth, you get to free yourself from all these complications. The result is a healthier you with a beautiful smile to show off. It's a winning combination.
#6 You will have them out in no time
One of the main reasons adults are so opposed to braces is the fact that no one wants to spend years with metal wires in their mouth. The good news is that as an adult, and with advances in dental health care, this isn't something that you have to worry about.
You could have braces put in and taken out within a few months, depending on the degree of your misalignment. You could also go for options that offer more flexible application so you can take them off whenever you feel like it.
#7 Braces aren't what they used to be
What comes to your mind when you think about braces?
Let me guess… you see an adolescent with a mouth full of wires, springs, and elastic bands. You see pain, discomfort, restrictions and an awkward smile.
But guess what? Times have changed.
These days, you have a lot of options in terms of the braces you can get. By far the best options for adults are the clear aligners. These are basically colorless correction aids that allow you to enjoy the benefits of alignment treatment without any of the embarrassment.
#8 It is an affordable long term option
Braces are no longer an expensive luxury that will dent your bank account. In fact, practices like ours offer adult braces in Highland Park, IL at affordable prices that make it all worth it.
Remember this is a lifetime investment. The results are permanent and you will have a beautiful smile as a daily reminder of your wise investment in yourself.
#9 It will improve your social and professional life
In life, appearance matters a lot. On one end, it affects your confidence and subsequent approach to life and different opportunities. On the other hand, it affects the perception that other people have of you.
With a great smile as a result of brace therapy, your social and professional lives will be changed dramatically. You will notice it in how confident you feel and how people respond to your new found confidence.
#10 Any future dental treatments will be easier to perform
Procedures like teeth cleaning, whitening, and even placement of prosthetics require straight teeth to run smoothly and with maximum effectiveness.
Getting adult braces in Highland Park, IL means that you will be getting the full value for your money with all subsequent visits to the dentist whatever the service is.
It also makes the procedures a lot more comfortable for you.
The bottom line
If you are looking for the best services in adult braces in Highland Park, IL then you have come to the right place. We offer a wide variety of options for you to choose from so that you can have the smile of your dreams.
With all these benefits, it goes without saying that braces are really not all that bad.
So book your appointment by clicking on the button below and let us get you started on that long overdue journey to the perfect smile.
[fusion_button link="https://jessicacohenorthodontics.com/free-exam" text_transform="" title="" target="_self" link_attributes="" alignment="" modal="" hide_on_mobile="small-visibility,medium-visibility,large-visibility" class="" id="" color="default" button_gradient_top_color="" button_gradient_bottom_color="" button_gradient_top_color_hover="" button_gradient_bottom_color_hover="" accent_color="" accent_hover_color="" type="" bevel_color="" border_width="" size="" stretch="default" shape="" icon="" icon_position="left" icon_divider="no" animation_type="bounce" animation_direction="left" animation_speed="0.3″ animation_offset=""]Get Your Free Exam[/fusion_button]
[/fusion_text][/fusion_builder_column][fusion_builder_column type="1_3″ layout="1_1″ background_position="left top" background_color="" border_size="" border_color="" border_style="solid" border_position="all" spacing="yes" background_image="" background_repeat="no-repeat" padding_top="" padding_right="" padding_bottom="" padding_left="" margin_top="0px" margin_bottom="0px" class="" id="" animation_type="" animation_speed="0.3″ animation_direction="left" hide_on_mobile="small-visibility,medium-visibility,large-visibility" center_content="no" last="no" min_height="" hover_type="none" link=""][fusion_widget_area name="avada-blog-sidebar" title_size="" title_color="" background_color="" padding_top="" padding_right="" padding_bottom="" padding_left="" hide_on_mobile="small-visibility,medium-visibility,large-visibility" class="" id="" /][/fusion_builder_column][/fusion_builder_row][/fusion_builder_container]