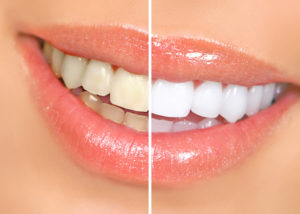 If you want a truly dazzling and beautiful smile, the subpar results from store-bought teeth whitening products just won't do. Fortunately, with a professional take-home teeth whitening in Highland Park, you can achieve stunning results from the comfort and convenience of your own home. With the right care, your newly brightened smile can stay gleaming for up to a year! To help make the most of your take-home teeth whitening, make sure to avoid or limit these four staining foods.
1.) Blueberries
Berries are a healthy and nutritious snack, but their combination of natural sugars, acidity, and dark-colored pigments make them a problematic choice for your pearly whites. The sugars and acids naturally contained in options like blueberries weakens the enamel, making way for the staining particles to set in and discolor your teeth. If you choose to eat berries, make sure not to overindulge and drink plenty of water to wash away any potential stains!
2.) Balsamic Vinegar
This popular sauce can be found in a variety of dishes, including everything from salads to pork roasts. Unfortunately, dark-colored sauces like balsamic vinegar mix with your saliva and coat your teeth. Then, the particles seep into the enamel and cause discoloration. To help keep your teeth safe while enjoying this savory sauce, use it sparingly and drink water alongside it. You may even want to enjoy it alongside some crunchy fruits or vegetables that are high in fiber, which can help naturally scrub your teeth of staining particles.
3.) Citrus Fruits
Citrus fruits include options like oranges, lemons, limes, and pineapple. There's no doubt that these colorful foods contain important vitamins and nutrients, some of which are particularly beneficial to the health of your smile! Nonetheless, citrus fruits are packed with natural sugars and acids, which can wreak havoc on your enamel in large quantities. Weakened enamel is highly susceptible to staining, so make sure to enjoy citrus fruits in moderation!
4.) Staining Drinks
Watching what you drink after teeth whitening is just as important as being mindful of what you eat. Unfortunately, there are many drinks that are well-known for causing tooth discoloration, like:
Fruit juice
Sports drinks
Carbonated beverages
Wine
Coffee and tea
These beverages all contain a combination of sugars and acids, and some have dark-colored particles that stain teeth easily as well. While drinking more water and milk will be a better choice for your health and smile in the long-run, you don't have to give up your favorite drinks entirely. To minimize the impact that the above beverages have on your teeth, drink them through a straw, alongside water, and in swift sips.
Thanks to modern cosmetic dentistry, it's never been easier to achieve the brilliant smile you deserve. Talk to your dentist today to see how a professional take-home whitening kit can transform your appearance!
About the Practice
Dr. Jessica Cohen and her team strive to help smiles of all ages in Highland Park and the surrounding communities look and feel their best. That's why they offer a variety of the latest dental treatments and services, each one personalized to meet the unique needs of a patient. Plus, with promotional items like the professional take-home whitening kit, you can achieve exactly the results you're looking for. To learn more, Dr. Cohen can be contacted online or at (224) 427-6800.